PEOPLE, FOOD AND BIORESOURCE DIVERSITY WORKSHOP
PROCEEDINGS RAMPACHODAVARAM (ANDHRAPRADESH) - 1994
CLICK HERE TO DOWNLOAD FILE
 Sustaining Agro Bio-Diversity Of Visakha Tribes
BIODIVERSITY IN TREES & CROPS IN TRIBAL AREAS OF NORTH-EASTERN A.P.
Background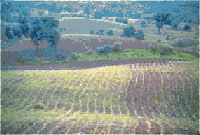 Eastern ghats which are scattered hills are the habitat of 60 tribal communities, interspersed with distinct micro climatic and cultural niches.

In the North East, the forests on the junction of Visakha, East Godavari and Khammam districts still have a good cover and receive annual rainfall of 1600 mm and above.

These forests are a major source of water, irrigating the east coast.

The tribals of these uplands are predominantly shifting and terraced cultivators and hunters - gathers.

The tribals view the uplands of Visakha as six agro-climatic zones
a.Chaligudam (cold) or Puligudam (tigers)b. Pasibayalu(yellow meadows)
c. Dorasi (food basket)
d. Arulla (two paddy crops)
e. Kotla (land of stones and primitive tribes)
f. Bayalu (open tracts descending towards lowlands)
 TRADITIONAL SYSTEMS:
Gingers, pineapples and beans are grown in all the zones. Mali tribe cultivates vegetables also.

Panicum/Jowar/Bajra/Rice and Ragi gruel are staple foods.

Shifting cultivation field carry a variety of crops - panicum maize, korra, cowpea, wild chillies, jowar, red gram, pumpkins, gours, water melon, white tubers etc.

August onwards one crop each is harvested every month. The day of the harvest is celebrated as a festival.

Collection of edible roots from forests is a regular activity for women. Beetroots, beans and tobacco for self consumption are grown in the homesteads.

Villages are enveloped with trees like jack fruit, mango, tamarind etc.

The months of May and June are named after mango.

Thus, the traditional system not only makes tribal self sufficient, they are able to produce for the market also.

The area is famous for PIPPALMODI, used by Pharmacuitical industry, Guttulaputta is a weekly market for these species. The turmeric is used in cosmetics and as such gets more price.
EROSION OF BIODIVERSITY:
External pressure has resulted in the decimation of jack fruit trees which are in demand for their yellow colour wood preffered for interior decoration.

Mango trees felled to supply raw material to plywood industry - few remaining trees felled to provide timber for housing colonies.

Caryota urens - a fibrous tree providing sap for four months has become vulnerable to forest fires.

Market for barks, gums and herbs is resulting in further destruction of forests.

Government promoting species like cashew, cocoa, rubber, cofee, silver oak and pine in place of natural forest.

Ryotwari settlement in 1970's has intensified felling of trees in private lands to bring it under cultivation.

Rice consumption promoted by employers engaging tribals as labourers.

Rice preferred by wage labourers because of less time required for cooking.

Eating rice has gradually become a status symbol in tribal society.

Paddy is being grown in stream beds. The trees on the stream banks are felled in the process leading of drying up the streams.

Dryland paddy has replaced multiple dryland crops.
Potato, hybrid rice and lemon grass promoted by government at the cost of natural forests.
W.P. No. 5515/87 M.P.No.7398/87 Date:May 1987
W.P. No. 6175/87 M.P.No.8273/87 Date:May 1987
 "Managing Director Godavari plywoods ltd. Rampachodavaram E.G.Dt. be and hereby is directed not to cut any mango trees, jamun and jack trees and cutting the forests of Maredumilli mandal, E.G.Dt."
 Only matured or dying trees were to be felled. Jeelugu (Caryota urens) palm, trees yielding minor forest produce like tamarind or cane brakes, creepers were not to be touched. A gap of 20 meters from a stream.)         --Times of India, April 30, 1991.
The candidate has chosen a topical subject, very relevant to our thinking on culture, cognition and language. He has red widely and is familiar with the literature that matters. His linguistic and anthropological reasoning is sound. His language is clear and simple.
...evidence of the investigator's ability as a linguist by special training and as a linguistic anthropologist by self - cultivated interest.
Prof. A.Munirathnam Reddy, Head, Department of Social Anthropology,S.V.University, Tirupati - 517502
Enabling the Community to Gain Command Over the Administrative Process is Empowerment.
"Today the development is manaement without governance and governanace is without proper participation."
A.P.Cabinet Sub - Committee Report on Left Wing Extrremists. - P.Sivaramakrishna.
The only information the government or media always compile carefully is on Naxalite encounters, never the violations of the instruments of rule of law such as minimum wages, fifth schedule, mismanagement of forests, equity in the distribution of welfare benefits, displacement, fragmentation of Socio-economic entities etc. 
FORESTS ARE RESERVOIRS OF WATER AND LUNGS OF OUR ENVIRONMENTS.
SAVE THEM FROM MINING AND DESTRUCTION.
Click here to Bauxite Case: Read full article.